If for some reason you have not registered for DCLX yet, now is the time! Register and pay for your ticket by Saturday, 3/15  at 11:59PM and not only will you be saving yourself some cash, as the price increases to $80 after 3/15, but you will also be entered into a drawing for a chance to win a WEEKEND PASS to DCLX!! You heard us right, the entire weekend – FREE. So for all you procrastinators out there, end your procrastination right now (or by 3/15 if you insist on procrastinating a while longer) and get yourself to DCLX's registration page – it's that tab right up there that says "Register." After the deadline, we'll draw one lucky winner for a priceless weekend here at DCLX!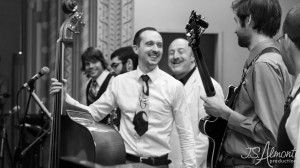 Photo thanks to Jerry Almonte
On another note, thanks for coming out and making our March 1st event DCLX's most successful Saturday night event to date! Of course, when you have classes taught by the wonderful Mike Thibault and Joanna Kassoulides followed by an evening of dancing to the tunes of Michael Gamble and His Rhythm Serenaders and then top it off with Mike Thibault DJing some of his favorite songs for our dancing delight, you can only expect to have a happy crowd. We got some great feedback from those who attended, so we'll be sure to make our upcoming events that much better! And a huge thanks to all of our special guests, Jerry Almonte for DJing the main dance, and all of our volunteers who made the event possible.