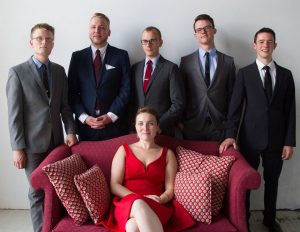 Get ready to spread some rhythm around on September 16 with Chelsea Reed & the Fair Weather Six! (Get it? Get it?? Because that's their new album! Check it out here: https://www.thefairweatherfive.com/)
The band will be lighting up the ballroom with three hours of toe-tappin jazz and THEN moving to the back room for another couple hours of booty shakin blues! You won't want to miss this!!
Saturday, September 16, 2017
Beginner Lesson: 8 – 9 pm (Free with admission!)
Intermediate Lesson: 8 – 9pm
Dance: 9 pm – midnight

Where?
The Spanish Ballroom
at Glen Echo Park
7300 MacArthur Blvd.
Glen Echo, MD 20812

Check it out on Facebook!
In October 2012, vocalist Chelsea Reed brought a few of her friends together to play some tunes in a South Philly dining room. Her plan was to form a band that played for swing dancers, so she could finally have the chance to sing her favorite songs for an audience that loved early jazz as much as she did. Since that fateful day, she's been living that dream and couldn't be happier about it.
Now, Chelsea Reed and the Fair Weather Six are at home at swing dances, jazz clubs and concert halls alike. They have played renowned Philadelphia venues and travel the country year round to perform at both Lindy and Blues exchanges and workshops. They've had the honor of sharing the stage with trombonist Wycliffe Gordon, pianist Gordon Webster, and bassist Michael Gamble. They love exploring the roots of jazz and finding creative ways to interpret forgotten songs. Drawing upon the intensity of powerhouse vocalists, the ingenuity of 20th century composers, and the soul of the dance floor, Chelsea Reed and the Fair Weather Six honor the heritage of jazz with fresh arrangements and original songs. They are silly, passionate people who love playing this music.
And that's all there is to it.
Band breaks by DJ Tony Vergara!
Come early at 8pm for a beginner lesson with fabulous local instructors (included in your admission price). Or, take our intermediate class (just $5) and learn something brand new! And remember, DCLX has Square! So cash, check, or plastic all work.
Presented in cooperation with Glen Echo Park Partnership for Arts and Culture, the National Park Service, and Montgomery County, MD.